Precision manufacturing for large custom seals
---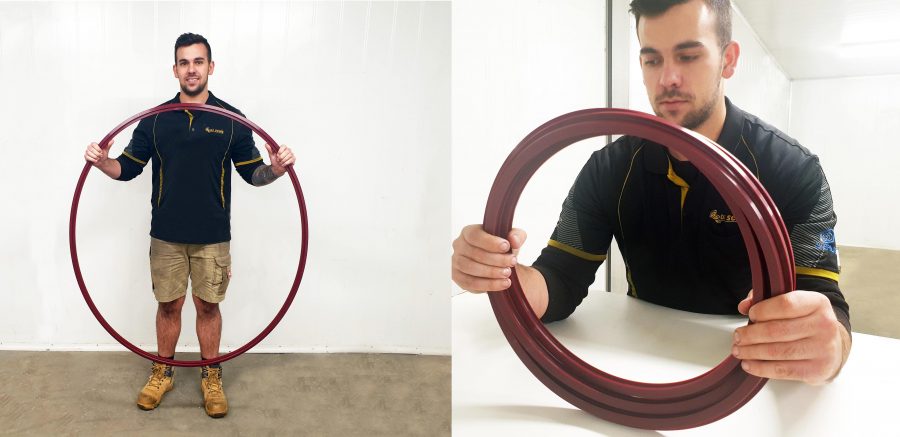 A high level of skill and precision is required when it comes to manufacturing large seals – especially with seal designs that have intricate profile drawings. At Oz Seals, special seal designs takes up to 4 days to finish (from drawing, machining and to shipping). Depending on the level of intricacy of the seal design and the dimensions that are required, larger seals would take a maximum of 4 days to be manufactured and shipped out.

To manufacture a seal with a large dimension, an engineer with the right skill set is required to handle a much more bigger and robust manufacturing system – Oz Megatron. The Oz Megatron is the largest manufacturing system in Oz Seals. Equipped with a CAD/CAM software that was designed exclusively by Oz Seals, this strong machine can manufacture seal dimensions of up to 2000 mm. Despite having a built in manufacturing software, seal engineers would still require a lot of patience and experience. To manufacture a seal on a larger scale, the task of evenly manufacturing the seal on both sides can be a challenge especially for engineers who lack the experience and manufacturing technique.
Special Profile Design

Large Custom Door Seal

Quality Check

Large Custom Door Seal
A few weeks back, Oz Seals received an inquiry for a large custom door seal, The client required a seal with a dimension of 1.100 mm. Additionally, the seal that was required had to manufactured in one-piece with no joint marks. Oz Seals received the client's profile drawing and the whole manufacturing process from start to finish took only 4 days (this includes quality check, packing and shipping).
Manufactured from triple-lubricated Oz Super Polymer, the seal has excellent temperature characteristics and have proven itself in tough application situations. Due to its elasticity and flexibility of the Super Polymer, the large seal was easily packed and shipped to another happy client.
Check out the video below of the large custom door seal that was packed and ready for shipment!
For inquiries for large custom seals, please contact our Brisbane Head Office @ (07) 3290 1846 or you can also drop us an email at sales@ozseals.com.