We offer a wide range of mechanical seals for all types of applications, including:
conical spring seals
elastomeric bellows
parallel spring diaphragm type seals
balanced diaphragm seals
parallel spring O-mounted seals
PTFE wedge type seals
wave spring seals
water pump seals
direct replacement seals for common OEM pumps
direct replacement seals for food
beverage and dairy industries
cartridges
stationery seats
and much more…
Below are some examples of our Oz Mec mechanical seals. For more details on each Oz Mec product please visit our Sealnet store here.
---
Mechanical Seals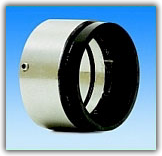 Oz Mec 1
Balanced O-Ring design with anti-clog features
Springs out of the fluid
Operate up to 42 bar (600 psi)
Non-fretting – will not destry shaft
Metal holder is never subject to fretting or wear
Seal face can be easily changed in the field or upgraded from carbon to silicon carbide
Oz Mec 0
Perfect for all alkalies and acids as no metal parts come in contact with the pumped fluid.
Balanced O-Ring design
Springs out of fluid
Non-fretting
Inspect seal while it is running
Operate up to 150 psi
---
Oz Stationaries
All Oz Mec seals are available in tungsten carbide, silicon, carbide and ceramic, depending on customers' pumping requirements. What we need to know from you:
Shaft Size
Stuffing Box ID
Stuffing Box Depth
Stuffing Box Pressure
Stuffing Box Temperature
Sealing Medium
Medium pH
Equipment Type
Are there any abrasives in the medium?
Can you flush the medium?
Do you want packing or mechanical seal?
---
Cartridge Seals